22 Bowen Street, Queenstown – Basement Apartment
Apartment
Singles only room in downstairs and upstairs part of VILLA on 22 Bowen Street. 500 meter from FRESH CHOICE. 40Gb WIFI, Weekly clean, Queen bed, garden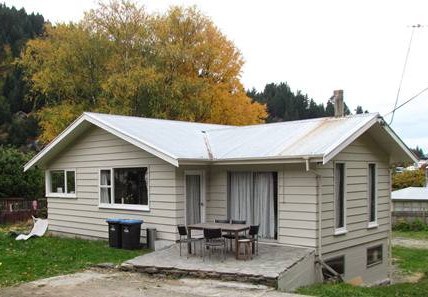 All Rent-a-Room properties are non-smoking and pet-free.
Total Occupants: 4
Males: 3
Females: 0
Couples: 0
Age range in the house: 24 to 27
Configuration:
Bedrooms #: 4
Bathrooms #: 2
Toilets #: 2
Showers #: 2
Water and Heating:
Water Heating: Gas heated – (Never run out of hot water)
Shower Pressure: Good
Heating: Oil-fin heater
Supplied:
Kitchen equipment supplied: Pots and Pans, Cooking Utensils, Cutlery, Oven, Electric Stove-top, Fridge, Toaster, Microwave
Entertainment supplied: BBQ with gas bottle, Freeview Satellite TV
Parking and Storage:
Parking spaces: 5
Off-street parking: 0
Garage: No
Storage for bikes / skis / boards etc: Some shelves in the halway
Cleaning and Rubbish Disposal:
Rubbish Day: Thursday
Cleaning: Cleaning and waste management responsibilities shared with other tenants
Laundry: Washing Machine, Dryer, Outside clothes line
Internet: at additional cost
Amenities in the area:
Additional Info:
Access around the back of he property leads into a hallway with laundry facilities a large gas operated dryer is coin operated, drying your clothes outside is free. All four rooms come with good queen size beds, bed size tables, dressors and have a TV with DVD and Freeview in the room. A basic kitchen and the 2 bathrooms can cater for up to 5 tenants, but usually there are four tenants residing in the apartment.
Tenancy Conditions
Our standard accommodation agreement requires you to be a considerate flatmate.
All agreements are subject to the following terms and conditions:
Tenancy installment conditions→
If you would like more information please go to:
Contact / information request →