14 Frye Crescent Wanaka
14 Frye Crescent Wanaka
Residential House
#14 Frye Cresent – ALBERT TOWN luxury freshly furnished flat. Plenty of space for 3 singles and 2 couples in the specious bedrooms full furnished with: queen slat beds, flat screen TV's. We also have unlimited fast internet in this super clean and spacious villa close to the pub and the river. Come enjoy the sun and quiet in the garden with BBQ area. Lots of parking and storage. Be quick!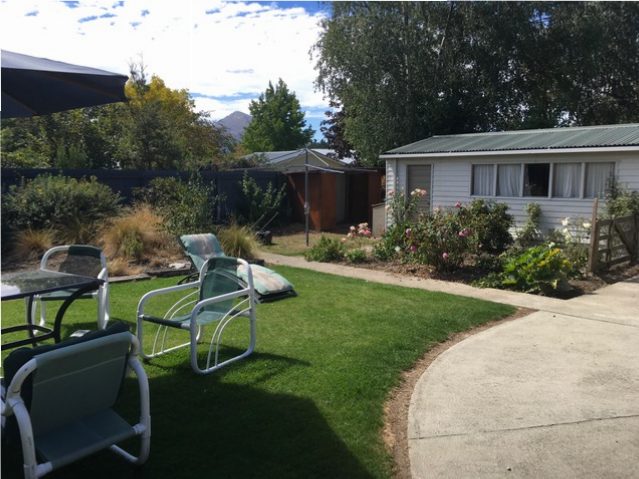 All Rent-a-Room properties are non-smoking and pet-free.
Total Occupants: 6
Males: 3
Females: 2
Couples:
Age range in the house: 22 to 29
Configuration:
Bedrooms #: 5
Bathrooms #: 3
Toilets #: 2
Showers #: 2
Water and Heating:
Water Heating: Electric hot water cylinder
Shower Pressure: Good
Heating:
Supplied:
Kitchen equipment supplied: Pots and Pans, Cooking Utensils, Cutlery, Oven, Toaster, Microwave, Dishwasher
Entertainment supplied: SkyTV
Parking and Storage:
Parking spaces: 4
Off-street parking: 3
Garage: Yes
Storage for bikes / skis / boards etc: Lots in double car garage
Cleaning and Rubbish Disposal:
Rubbish Day: Wednesday
Cleaning:
Laundry:
Internet: included in the rent
Amenities in the area:
Additional Info:
Tenancy Conditions
Our standard accommodation agreement requires you to be a considerate flatmate.
All agreements are subject to the following terms and conditions:
Tenancy installment conditions→
If you would like more information please go to:
Contact / information request →